Homemade Caramel Rooibos Meringue Recipe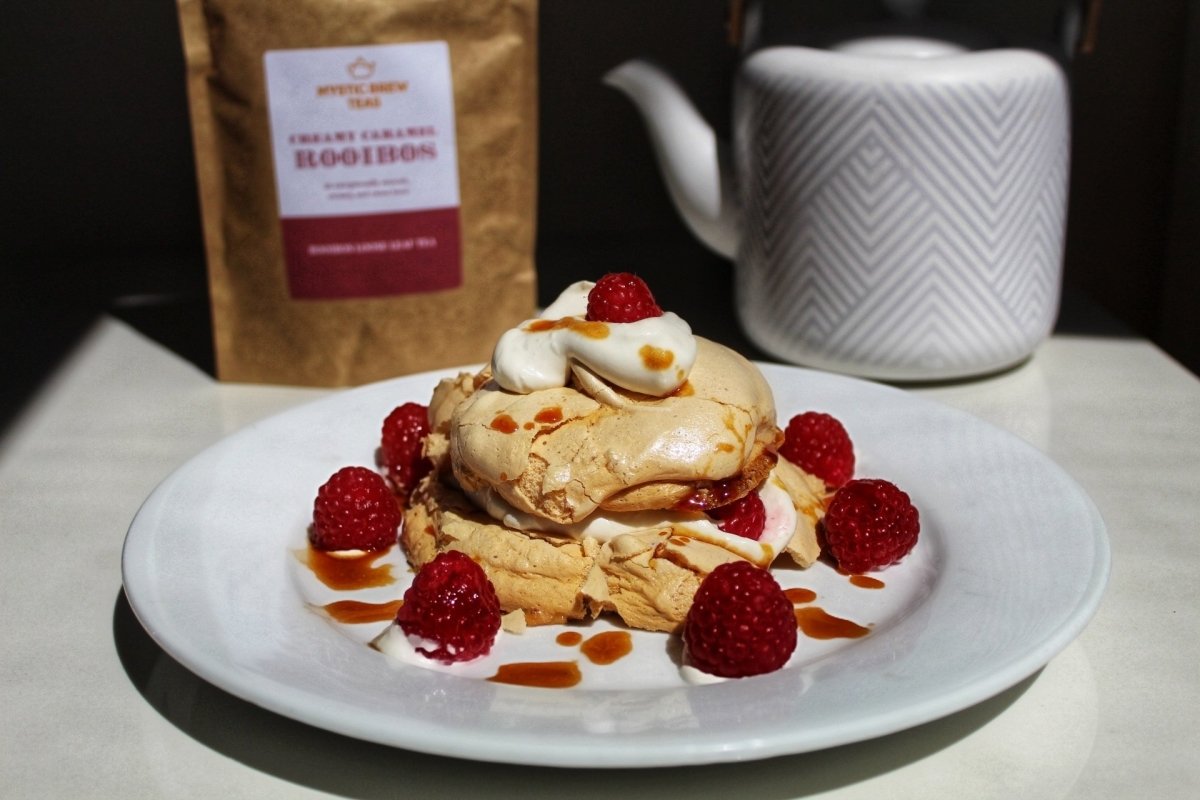 Homemade Creamy Caramel Rooibos Meringue
Here's a recipe for a homemade Creamy Caramel Rooibos Meringue. Our Creamy Caramel Rooibos Tea really shines in this recipe as it is used in both the meringue and the sauce. This meringue tastes yummy and never lasts long in our household. 
For the meringue:
4 large egg whites (room temperature)
115g caster sugar
115 icing sugar

For the rooibos sauce:
2 tbsp of the Creamy Caramel Rooibos
1 tbsp of caster sugar
1 tbsp of butter
150ml of boiling water

For the garnish:
Whipped double cream
Fruit

Method:
Boil the water and brew the rooibos tea for 10 min to get a really strong essence. Strain the tea after 10 min, discard the leaves and let it cool down.

Heat the oven to 110C/ 100C fan/gas ¼.

Line 2 baking sheets with non-stick liner or parchment paper (meringue can stick on greaseproof paper and foil).

Tip egg whites into a large clean mixing bowl (not plastic). Beat them on medium speed with an electric whisk until the mixture resembles a fluffy cloud and stands up in stiff peaks when the blades are lifted.

Now turn the speed up and start to add 115g caster sugar, a dessert spoonful at a time. Continue beating for 3-4 seconds between each addition. It's important to add the sugar slowly at this stage as it helps prevent the meringue from weeping later. However, don't over-beat. When ready, the mixture should be thick and glossy.

Add 1 tbsp of the brewed cooled rooibos tea to the mixture.
Sift one third of the 115g icing sugar over the mixture, then gently fold it in with a big metal spoon or rubber spatula. Continue to sift and fold in the remaining icing sugar a third at a time. Again, don't over-mix. The mixture should now look smooth and airy.

Scoop up a heaped dessertspoonful of the mixture. Using another dessertspoon, ease it on to the baking sheet to make an oval shape. Or just drop them in rough rounds, if you prefer.

Bake for 1 ½-1 ¾ hours in a fan oven, 1 ¼ hours in a conventional or gas oven, until the meringues sound crisp when tapped underneath and are a pale coffee colour.

Leave to cool on the trays or a cooling rack.. (The meringues will now keep in an airtight tin for up to 2 weeks, or frozen for a month.)

Heat the rooibos essence with the sugar and stirring frequently reduce it until it becomes thick and syrupy. Take it off the heat. Add the butter and mix well. Let it cool.

Serve two meringues sandwiched together with a generous dollop of softly whipped double cream. Garninsh with the fruit and the caramely rooibos sauce.

Enjoy!


To purchase Creamy Caramel Rooibos Tea please click here
Credits: This recipe is inspired by BBC Good Food ultimate meringues recipe
Leave a comment
Comments will be approved before showing up.
---
Also in News & Recipes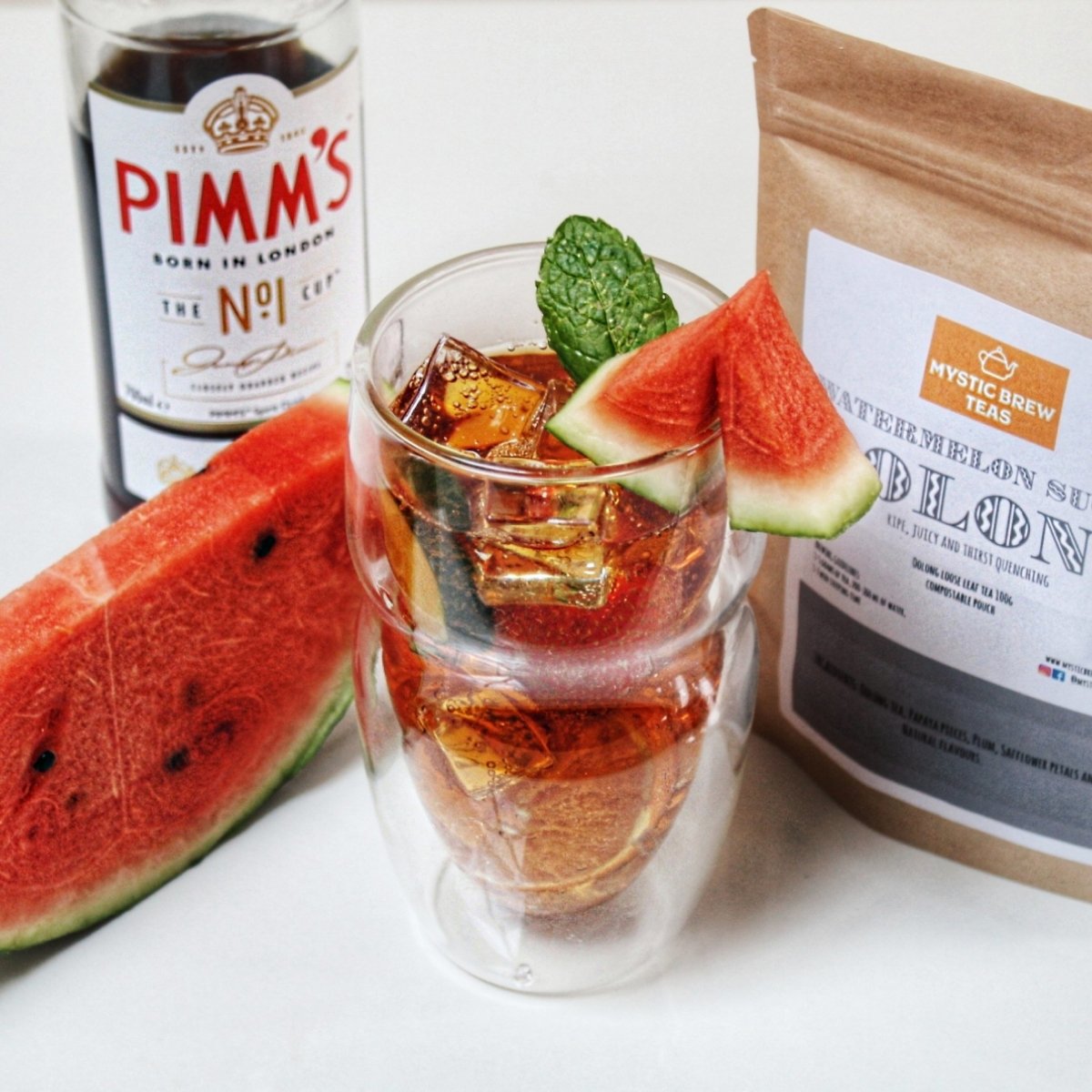 Pimm's O' Clock.
To celebrate the release of our new Watermelon Sugar Oolong Tea. We've made a Watermelon Pimm's cocktail. We've combined our Watermelon Sugar Oolong Tea with Pimm's, lemonade and plenty of ice and the results were delicious.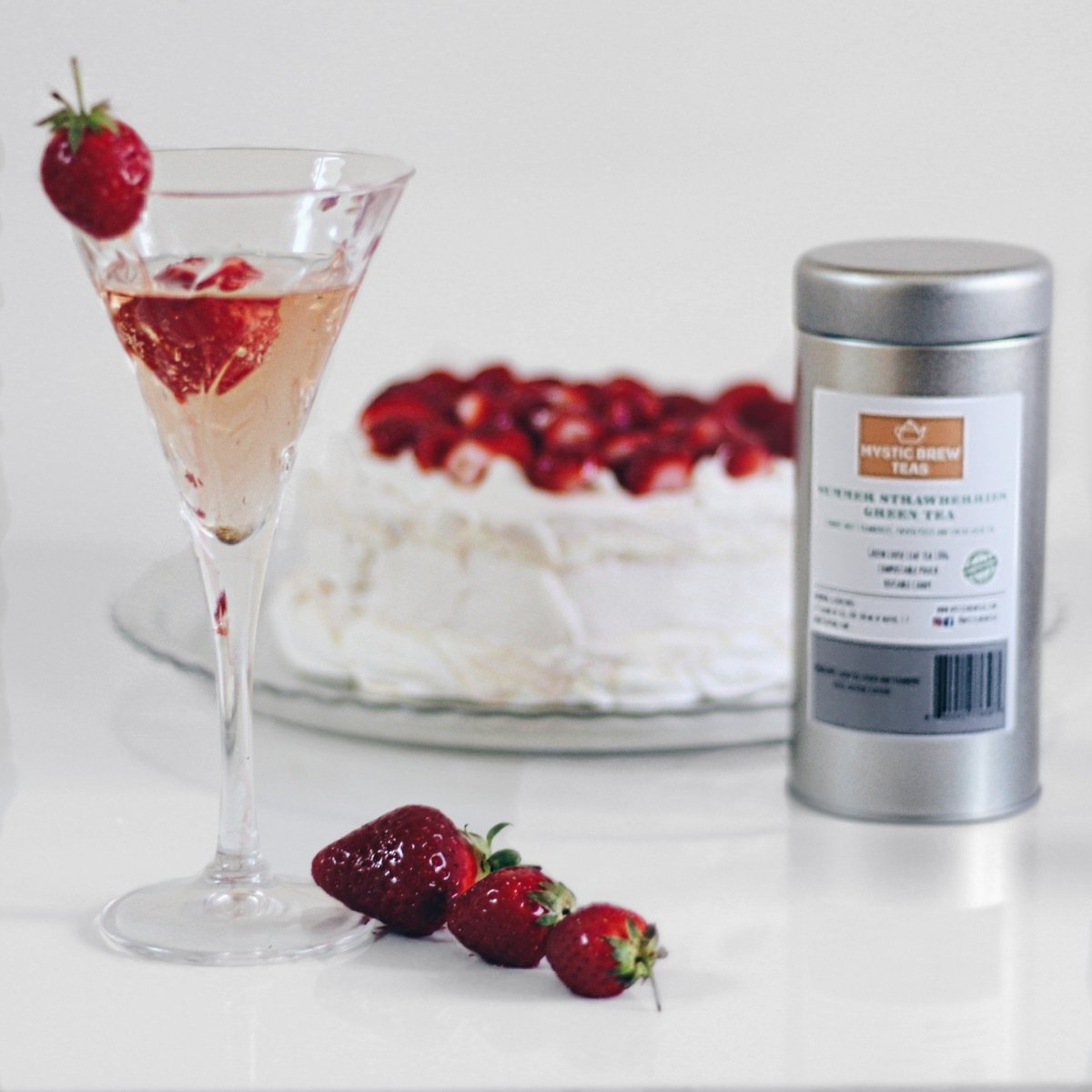 Summer Strawberries Prosecco is a combination of Prosecco and our very own Summer Strawberry Green Tea. It's super easy to make, tastes fantastic and is an excellent accompaniment to a cheesecake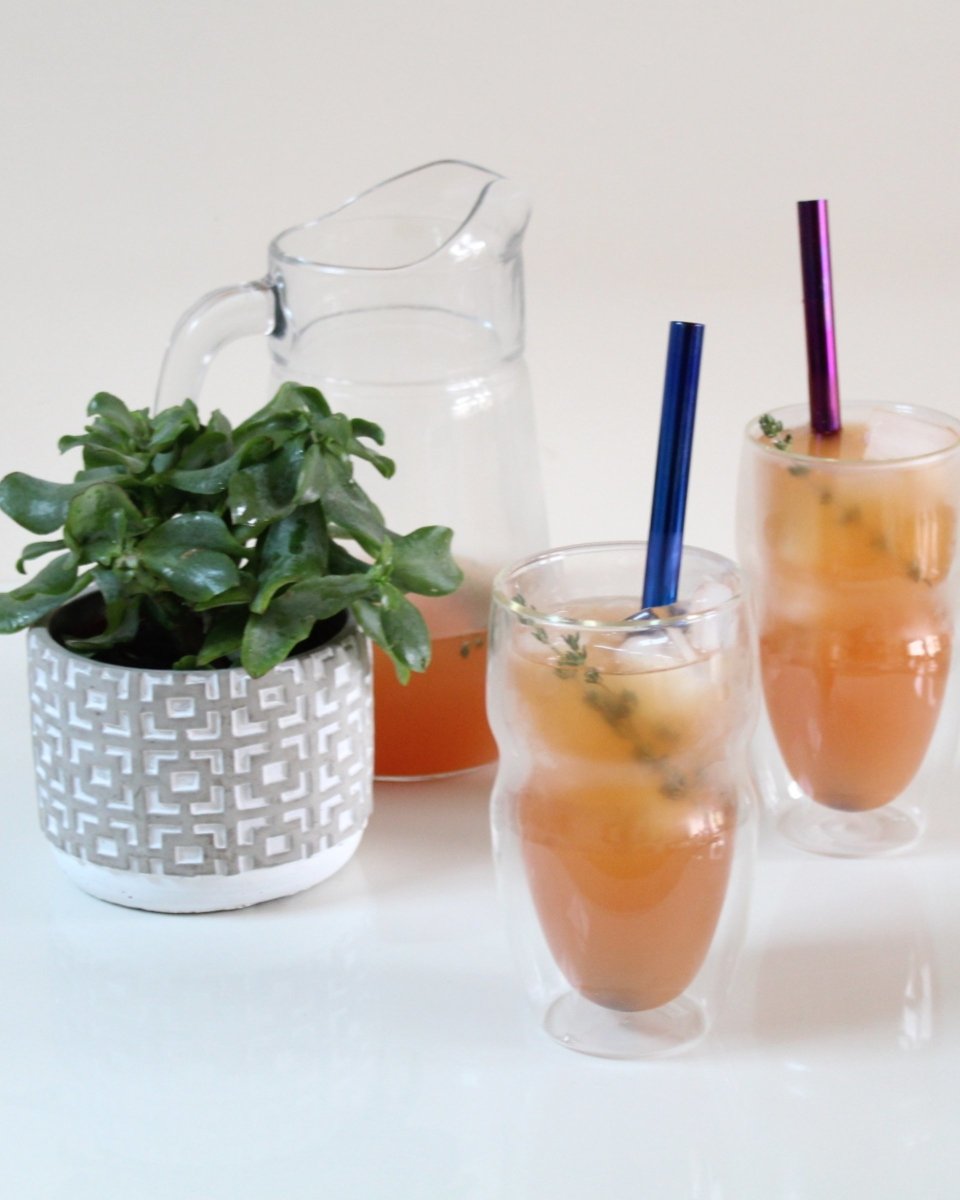 What better way to celebrate World Gin Day then with a tea infused cocktail. We've combined our very our own Nighty Night Tea with Pink Gin, Elderflower Cordial Grapefruit Juice and plenty of ice and the results were amazing.